Am I In It?
The Edgware Eruv covers parts of
postcodes HA8 and NW7.
Use the search form below to find if a
certain road in either of these postcodes
is included in the Eruv.
Use 4 letters or more and do not use
abbreviations. For example use
road NOT rd and street NOT st.
However, DO use st for saint.
You are best using parts of street names.
For example to find Broadfields Avenue
just try broad or fields
Edgware Eruv Map
A map showing the roads included within
the Edgware Eruv is shown below.
This is also available as a Google map with
surrounding Eruvin indicated.
Please Note
Both Edgwarebury Park and Stoneyfields Park
are completely outside of the Eruv. Stonegrove
Park is inside the Edgware Eruv and the park
gate on Stonegrove marks the boundary between
the Edgware Eruv (in the park) and the Stanmore
Eruv (on Stonegrove).
On Station Road Edgware, the Edgware Eruv stops
before the old Post Office (just beyond the entrance
to the Broadwalk carpark).
Neighbouring Eruvin
The Edgware Eruv is bordered by two neighbouring
Eruvin, Stanmore and Mill Hill. Where the Edgware
Eruv joins one of its neighbours, one may choose to
carry from one to the other. However, the Edgware
Eruv is independent and its status does not rely on
the validity of any other Eruv. The Stanmore Eruv
and Mill Hill Eruv are under the halachic supervision
of the London Beth Din and further details can be
found at:
www.stanmore-eruv.org.uk
www.millhilleruv.com
Edgware/Stanmore border
The A5, Edgware High Street, also known as
Stonegrove is always completely outside of the
Edgware Eruv and all houses and buildings opening
onto it are also completely outside of the
Edgware Eruv. Note that some of Stonegrove is
within the Stanmore Eruv.
The pedestrian overpass on the A41 Edgware
Way, just by the entrance to Edgwarebury Park, is
outside of the Edgware Eruv but is within the
Stanmore Eruv.
Care should be taken when walking to Stanmore
as neither Green Lane nor the A41 links the
Edgware Eruv to the Stanmore Eruv. The only link
is via Stonegrove.
Edgware/Mill Hill border:
There are four crossing points between the Edgware
and Mill Eruvin:
A41 (Edgware Way), at the bridge over the M1,
close to Apex Corner
Selvage Lane, at the bridge over the M1, close
to Apex Corner
M1 footbridge, that runs between Hale Grove
Gardens/Highwood Grove and Glendor Gardens
Hale Lane, mini-roundabout close to Mill Hill
Broadway station
Care should be taken when walking through Mill Hill
towards Hendon as the middle of Bunns Lane is in
neither the Edgware Eruv nor the Mill Hill Eruv.
There is an alternative route via Woodland Way
and Flower Lane.
Click the map to Zoom in
also available as a Google map with surrounding Eruvin indicated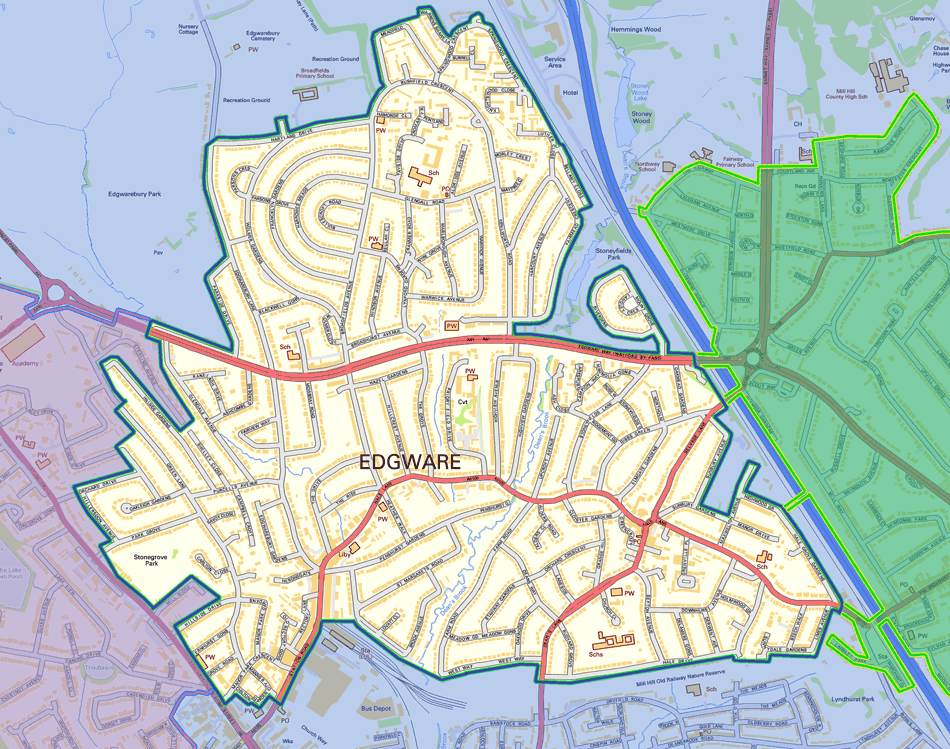 Click the map to Zoom in
also available as a Google map with surrounding Eruvin indicated
Map Contains Ordanance Survey data © Crown copyright and database right 2011
Please see our Privacy Notice